If you want potential buyers to choose your house instead of your competition, home staging — the art of making a home look visually appealing — can make you stand out from the crowd.
The goal of staging is to make a home appealing to the broadest pool of buyers which often results in more buyers and more competition for your home. More competition helps your home sell faster and for more money. Staging strategies focus on improving a property's appeal for the target home buyer and making it as attractive as possible. Many real estate agents, such as RochMNHomes.net offer free home staging consultations for their clients. We use a variety of items such as paintings, accessories, plants, pillows, bedding and more to help your home appeal to the most buyers.
Listing Agent Mantra
Any good listing agent knows there are three basics when preparing a home for sale:
1. Declutter
If you're not using it in the next 6 months, pack it up and store it elsewhere.
2. Deep Clean
Make it sparkle. Start from the ceiling and work your way down to the floor. Wash it, wipe it, dust it, polish it, shine it until it is shining clean.
3. Fix It
If it's broken, fix it. If it's beyond repair, replace it. If you can't afford to do that, disclose it on your property disclosure.
Did that? Now what? The experts at RochMNHomes.net can tell you those two things may not be enough!
Beyond Cleaning - Staging
It's tidy, cleaned and looking good. Take things to the next level with home staging. But how? Many real estate agents, such as the RochMNHomes.net team, offer free staging when you list with them. I have an attic full of staging items to lend my clients for the staging process: pillows, curtains, bed cover sets, art work and knick-knacks. You can also search online for "Home Stagers" to hire a local professional.
But it's not that hard! You may be able to do this on your own! Just follow a few simple guidelines.

1. Light it Up!
Most home buyers don't even know it but they respond positively to both natural light and unnatural light. Go through the house and make sure you are using the highest wattage bulb that each light fixture can manage. Add lamps in dark corners. Bounce light off the ceilings in especially dark rooms. Open curtains and blinds during the daylight hours. Do what you can to make the lighting inviting.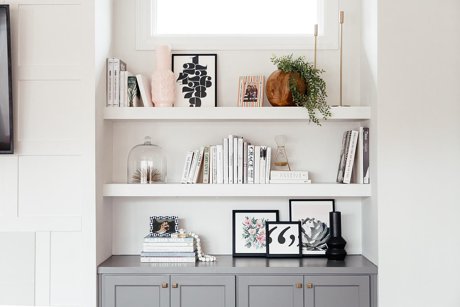 2. The 1/3 rule
Bookcases and shelves should be, at most, 1/3 full. Anything more looks cluttered.

3. First Impressions Count
What do home buyers do while the real estate agent is fumbling around trying to get the key out of the lockbox and open the door? They look around your front door area and make their first impression! And since you usually come in through a side door or garage door you may have no idea what your front entrance looks like. Make sure this area is clean, free of dog poop (yes, I said it cuz it had to be said) and spider webs then add some pretty things such as flowers.

4. Pick a color
Pick a contemporary color for your decorating theme. We're not talking wall and carpet colors because those should be neutral. We're talking bedding, pillows, curtains, accessories, etc. What's the current "in" color? Just visit your local Pier One Imports, Pottery Barn, Ikea or Hobby Lobby store and you'll see one or two colors that dominate the home decor sections. Shades of blue have been very popular the last few years while shades of yellow and red have been considered out-of-style. Find out the latest design color of choice (nothing outlandish) and splash it around the house with vases, art work, couch pillows and more. Stick to one main color and one accent color and you should be good!