Manor Woods West Subdivision of Northwest Rochester consists of 14 different plat maps recorded between 1984 and 2004. This is one of the larger Northwest Rochester subdivisions and consists of mostly residential homes with few townhomes or apartments if any.
Homes of Manor Woods West Subdivision - Rochester MN
Most homes were built between 1983 and 2015. The earlier phases enjoy affordable ranch style, smaller 2 story homes and bi-level homes. Homes became quite a bit larger as the phases progressed and later phases are almost all ranch and 2 story single family homes. Many homes will have walk-out lower levels yet some are built into gentle sloping hills. Most homes will have attached 2 and 3 car attached garages. Lot sizes vary from .12 acres to .7 acres with the mean size being .2 acre in size. Homes are connected to city sewer and water.
Our local Multiple Listing Service (MLS) shows 74 homes were sold in the Manor Woods West Subdivision between January 1, 2016 to May 22, 2018. Sold prices ranged from $182,000 for a 1696 total square foot bi-level home with 4 bedrooms, 2 baths and 2 car garage built in 1987 to $430,000 for a 3650 square foot 2-story style story home with 5 bedroom, 4 baths, 3 car garage built in 2015. The average sales price was $237,132 and the median sales price was $234,400. Average Days On Market (DOM) was 27 and the median DOM was 15.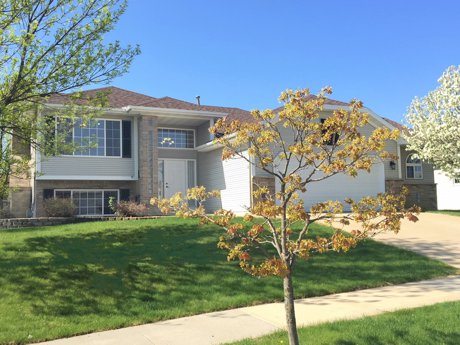 May 23, 2018 -- Check out this Manor Woods West home for sale at 4610 4th St NW, Rochester, MN
Schools
At this time (05/22/2018) the Manor Woods Subdivision is in the Harriet Bishop Elementary School , John Adams Middle School and John Marshall High School boundary areas. Get the Rochester Public School Boundary Map here.
Location
Manor Woods West subdivision is located in Northwest Rochester. It sits on the very western edge of Rochester. This neighborhood has easy access to 2nd St SW, the road to downtown Rochester, St. Mary's Hospital and Mayo Clinic. There is also very quick access to West Circle Drive (County Rd 22 West) and Highway 14 East.
The closest shopping is the Costco and the downtown area with Apache Mall not too far away. There are several grocery stores nearby including Costco, a new Hy-Vee store on West Circle Drive, People's Food Cooperative and Natural Grocers.
</p
Transportation and Walk-Ability
Rochester Public Transit provides bus service to Manor Woods West (Route 8 weekdays) with ample bus stops throughout the neighborhood. The neighborhood has plenty of sidewalks for a casual stroll or jogging. There is a Kwik Trip Convenience Store not too far away that you could walk to but most shopping and work will be at least 2-4 miles away, most with walking trails or sidewalks to get there. Biking is a viable option to much of Rochester as you can connect to the bike trail system on West Circle Drive.
Plat Maps
Topography of Manor Woods West Subdivision
Manor Woods West is mostly softly rolling, gentle slopes. These rolling hills provide walkout lower level basements, a bit more privacy in the backyards and some great views. Mature trees along the soft ravines and off in the distance provide some beautiful vistas.