Century Point Subdivision of northeast Rochester consists of just one plat maps recorded in 2003. This subdivision is just 34 homes situated on two cul-de-sacs located just east of East Circle Drive (Cty Rd 22) near Quarry Hill park.
Homes of Century Hills Subdivision - Rochester MN
Most homes were built between 2004 and 2008. You will find split level, ranch and two story homes in Century Point. Most homes will have a 2 car garage but a few have 3 car garages. Lot sizes vary from .17 acres to .4 acres with the mean size being .28 acre in size. Homes are connected to city sewer and water. 
Our local Multiple Listing Service (MLS) shows 4 homes were sold in Century Point between February 8, 2016 and Feb. 8, 2017. Sold prices ranged from $230,000 for a 2035 total square foot ranch home with 4 bedrooms, 2 baths and 2 car garage built in 2012  to $300,000 for a 2970 square foot two story home with an unfinished basement, 4 bedroom, 4 baths, 2 car garage built in 2004.  Average Days On Market  was 62 and the median DOM was 31.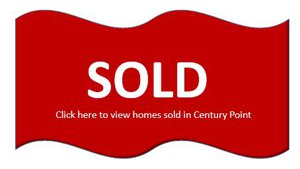 ---
Schools
At this time (2/2017) Century Point Subdivision is in the Jefferson Elementary School, Kellogg Middle School and Century High School boundary area. Get the Rochester Public School Boundary Map  here.  Schaeffer Academy, a K-12 grade private school, is very close by. 
Location
Scroll down for map and directions to the Century Point Subdivision.
Century Point subdivision is located in Northeast Rochester   It  is adjacent to Century Hills Subdivision and sits on the very eastern edge of Rochester. Is was developed around the same time as East Circle Drive (aka County Rd 22 East) was put in for easy access to Century High School. It is an easy drive to get from the Century Hills area to downtown - most people take Viola Road NE. Rochester Community and Technical College (RCTC) and Quarry Hill Park are just down the road and it is right across the street from Century High School.
The closest shopping is the Shopko North complex on North Broadway. The only full service grocery store with a NE address is Silver Lake Foods IGA, a wonderful locally owned grocery in Silver Lake Center with fabulous weekly specials on their meats and a local butcher. Other nearby grocery stores are Cub Foods in SE Rochester and Hy-Vee on 37th St in NW Rochester.
Century Point is very conveniently located to downtown. At of January 2017 there are no bus stops in the neighborhood. The closest bus stop is at Century High School. 
Northeast Rochester is our smallest  quadrant in regards to the number of houses. It is mostly residential with small commercial businesses to support the residents.  It is time consuming to get from this pocket of Rochester to far northwest Rochester but that will improve as the current project to connect West Circle Drive to East Circle Drive progresses. 
Plat Maps
MAP